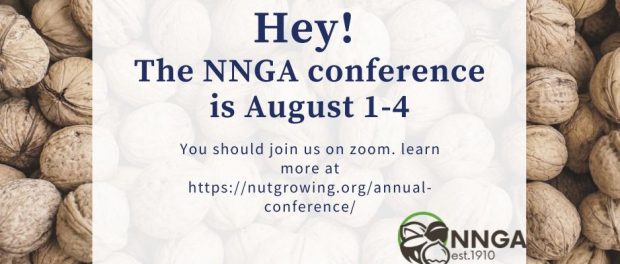 The 2021 Nut Growers Conference from the Northern Nut Growers Association, August 1-4, 2021
Since 1910 the Northern Nut Growers Association has been promoting the growing and research of temperate zone nut trees.
Join the NNGA for their 2021 Virtual Conference, August 1 – 4.
Nuts are nutritious and delicious, and nut trees play a role in protecting the environment. Our keynote speaker will be Dr. Diana Beresford-Kroeger, a botanist, medical biochemist and author. She works towards preserving the earth's climate and forests, bringing a better understanding and appreciation of the scientific complexities of nature to the general public. Her books include The Sweetness of a Simple Life, The Global Forest, Arboretum Borealis: A Lifeline of the Planet, Arboretum America: A Philosophy of the Forest, and A Garden for Life. She has won numerous international awards for her work.
From August 1 through August 3 we will hear the pre-recorded presentations of Dr. Beresford-Kroeger and two dozen speakers divided into six sessions: Trees and Earth ecology; Chestnuts; Hazelnuts; Invasive Species and Other Threats; Other Favorite Nuts (butternuts, almonds, pecans, black walnut, English walnut); and the Business of Orchards. The Nut Growers Conference presenters will be live after each session to answer questions and hear comments that participants pose. The contact information for each presenter will be displayed, so participants whose questions cannot be considered due to time constraints can contact the presenter directly.
On August 4 we will have nut growing breakout rooms for chestnut, hazelnuts, walnuts (all species, including heartnuts and butternuts), and pecans. Each room will have experienced growers, university and research station scientists, and hobbyists. It is a remarkable opportunity to meet and interact with these nut tree enthusiasts.
Registration and an agenda for the Nut Growers Conference with the time schedule and speakers' names and topics are at https://nutgrowing.org/annual-conference/