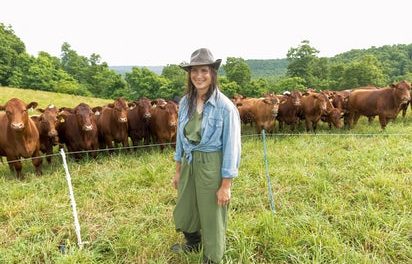 Livestock Volunteer at Heifer Ranch – Long Term Residential Placement
Heifer Ranch, 55 Heifer Road, Perryville, AR 72126
The Livestock Volunteer at Heifer Ranch works as a part of the Ag Team to raise grass-finished sheep and cattle, pastured poultry, and forested pork for Heifer USA. Volunteers operate as a part of a team to perform tasks related to daily chores, livestock care, pasture health, and infrastructure maintenance.
Requirements of the Livestock Volunteer at Heifer Ranch
Must be at least 18 years of age by starting date of volunteer service.
Must pass background check.
Must be fluent in the English language and possess excellent verbal & written skills.
Must have a valid driver's license.
Must complete required orientation & training and uphold all policies & procedures.
Ability to perform as an effective team member and work cooperatively & positively with a diverse group (gender, age, religion, ethnicity, etc.) of participants & co-workers.
Ability to follow procedures, expectations & rules, with or without direct supervision.
Willingness & ability to share housing (including room) with a diverse group of other Heifer Ranch volunteers and participate in the household community including housekeeping chores.
Must have good agility and be able to perform a variety of physical tasks including the ability to frequently lift 50+ pounds, work with all species of livestock, stand on feet for long periods of time, and work outdoors in all types of weather (hot/humid summers and cold/wet winters). The work is hard, sometimes heavy, and frequently repetitive.
Previous livestock or husbandry experience desired.
A working knowledge of: livestock production, low stress animal handling, safe operating skills of farm equipment and machinery, is preferred.
Must have an up-to-date tetanus vaccination.
What we provide:
Residential Housing – fully-furnished, climate-controlled, communal
Linens, towels, blankets and other bedding supplies
Household Supplies (cleaning products, toilet paper, laundry detergent, trash bags, etc.)
Living Allowance Reimbursement Stipend ($ 14 per day in residence)
Access to the Community Van (shared vehicle) for errands off-site
Ranch-issued bicycle for on-site use
Training
Work Schedule
Full-time, 40+ hours per week including evenings, weekends and holidays depending on scheduled programming. Volunteers receive 2 days off each week (or hours equivalent). Volunteers may make requests for additional time-off as needed. There is no limit on vacation days/year but time-off must be approved by a supervisor.
Supervised by: Livestock Production Specialists
Service Commitment: 3 to 11 months
Position Responsibilities
Livestock Management-knowledge or willingness to learn general livestock nutrition, health, reproduction and holistic management. Low stress animal handling and moving, restraint, inject medication. Organizational skills for agricultural equipment, tools and keeping detailed livestock records.
Rotational Grazing– learning forage identification, different grazing methods, species specific forage preferences, setting up and taking down temporary fencing and grazing equipment.
Fencing – clearing fence lines of brush, taking down old fences, mending broken or loose fences, building new fences. This will include barbed wire and high tensile electric fence materials.
Animal health – daily monitoring of animals' well-being, shade, bedding, feeder space, water availability, general health. Observing animal behavior for normal and abnormal signs.
Broiler Production– assisting in raising 20,000 broiler chickens from brooder to pasture. Daily moving of 7 prairie schooners, putting down hay in inclement weather, hauling feed in buckets or bags. Loading birds for processing.
Sheep production- 100 Katahdin ewes and lambs. Frequent moves to fresh grass, breeding in the fall. Helping facilitate our Women's lambing program in the spring, health (foot trimming, vaccinations).
Cattle Production- over 200 head of cattle including cows, bulls, calves and stockers. Frequent rotational grazing.
Pig Production- over 150 hogs smaller batches raised out on pasture and in forested areas. Farrowing of a few sows to help supply hogs for ranch consumption.
Safely Operate Machinery, Tools, Equipment – properly and safely operate a wide variety of typical hand and power tools, and vehicles.
Willingness to Learn and Teach – Possess a clear understanding of & appreciation for the mission of Heifer International & of Heifer Learning Centers. Learn and be able to speak in front of groups about agriculture & Heifer's work.
Maintain Positive Working Relationships – with co-workers and provide excellent customer service to Ranch guests. Excellent customer service skills including a friendly, 'can-do' attitude, people skills & patience.
Perform other job-related duties as assigned.
To Apply for Livestock Volunteer at Heifer Ranch
Please email a copy of your updated resume to ian.peters@heifer.org as well as short written paragraph outlining your objectives.